People often ask me why I'm so OBSESSED with all things Japan-related.
I tell them that I lived in Tochigi-ken for 3 years, and we nod politely – as if that explains everything…
Yet, for over 20 years, I have struggled to express WHY I find Japanese ways of thinking, speaking and doing things so personally meaningful, helpful and practical.
When the pandemic struck I became absolutely DRIVEN to pin this down.
Falling in love with Japan can feel like a jigsaw the size of Mount Fuji just erupted all over your senses.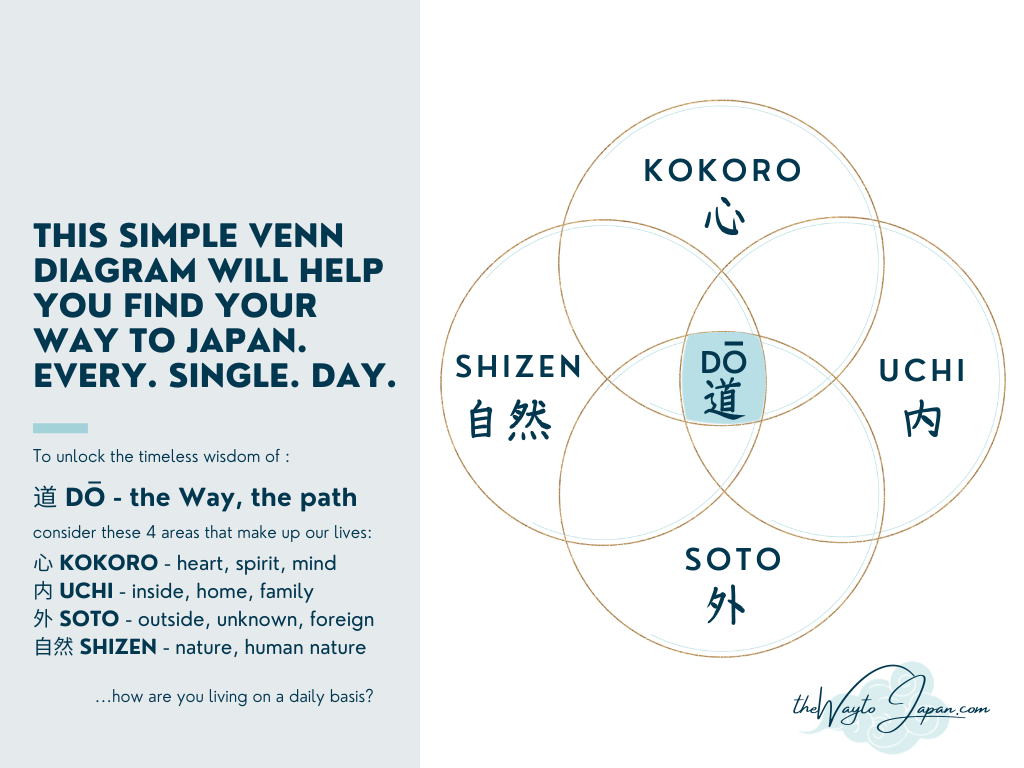 To put it into words, I took 5 exquisitely-nuanced Japanese kanji that have come to mean so much to me, and combined them into a SUPER SIMPLE framework (I do love a Venn!) to help us find our way to Japan. Every. Single. Day.
It details the 4 areas that all of our lives are made up of and that sweet spot of liberation in the middle that can be felt when they are in balance.  And I am bum-clenchingly excited to share it with you!
Would you like to learn how to cut the overwhelm, bring Japan closer, and enjoy more meaningful Japan joy in your life right now?
Let's explore together these 4 areas and the art of Japan-inspired living. Understanding how filling life with those small, significant details on a daily basis unlocks the ancient wisdom of the Way!
Get my FREE pdf framework: the Way to Japan & join our community of people with JAPAN-SHAPED HOLES IN THEIR HEARTS ♡
How it works:
Enter your name and email address to join the Way Newsletter. Every week I'll send you an encouraging edit of juicy Japan-inspired things to fill your life, home & heart.
Become a founding member & receive your PDF of the Way framework (…and look out for 4 part email explanation).
Be the first to hear about our PODCAST and INSTAGRAM LIVE interviews with fellow Wayfinders, upcoming masterclasses, and membership club
Sign up here 👇